Introducing PrePay Metering...
Mid-Ohio Energy's PrePay metering is a voluntary program that allows you to choose when and how you pay for your electricity. PrePay is a flexible alternative to monthly billing that offers unique benefits for members.
- You control the payment date and amount.
- Eliminate deposits and late fees.
- Use alerts and information to reduce your use.
PrePay gives you the the ability to manage your electric service in a way that best suits your lifestyle. It gives you flexibility to add credit to your account as your budget allows. The knowledge you gain from monitoring your balance and energy use gives you insight on how your lifestyle impacts your energy costs and best of all− empowers you to save!
While PrePay can add flexibility and convenience, it may not be for all members. Please review the program details to see if it's right for you.
How PrePay works...
By enrolling in the prepay program, you will notice some immediate differences from a traditional billed account. A new meter, equipped to handle the prepay program will be installed at your service location. You will no longer receive a monthly statement of charges. A member must establish a minimum credit of $50 to begin service. As the home uses electric, the account's balance begins to diminish based on the amount of kilowatt-hours (kWh) used. You will pay the same rate for your electric service, with the monthly service charge and taxes calculated daily. Members will be able to receive notifications and monitor use and account balance. Be sure to maintain accurate and up-to-date contact information to receive these notifications. When the balance becomes low or you would like to make a payment, use any of the convenient payment methods available through the cooperative. While you will no longer receive a monthly statement, you can view your use history and previous payments by visiting our online Energy Center portal.
In-Home Display (IHD)...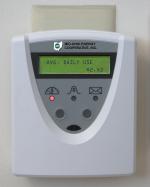 The IHD is a major benefit of the PrePay program, and can help you keep a close watch on the energy your home consumes. By tracking historical information, you'll be able to gain valuable insight that can help you manage your use! The display can be plugged into any interior outlet in the home. It's recommended to use a higher outlet, in an easy-to-access area so you can receive updates.
Cycle through the IHD to show the following information:
   ›› PrePay account balance
   ›› Current date & time
   ›› Energy use history for: daily average, previous day, monthly total, last month's total
Receiving alerts & notifications...
Be sure to keep contact information accurate and up-to-date. It is recommended to provide several different methods of communication such as e-mail addresses and cell phone numbers to be sure to receive electronic communications about your account. Visit Energy Center to update information and set alerts or download our app for Apple or Android devices.
Who is eligible...
Members in class R (residential) or class G (general service) can enroll in the prepaid metering program. Other rate classes can't participate due to certain equipment limitations.
The following must be verified by the member:
1.) Not an active member of the U.S. military.
2.) Not elderly as defined by the State of Ohio (age 65 or older).
3.) No individual in the household requires life-support or other medical necessities requiring uninterrupted electric service.
To enroll, or for more information about the PrePay pilot program, please contact our offices today